Answers and Help
Oct 03, 2023
Select words to reveal their group or test a submission. Want the full answer list?
SPEECH
PUMA
AFGHAN
WATER
LEAD
YAK
JORDAN
JABBER
ANGORA
BLATHER
CONVERSE
ALPACA
CHAT
VANS
TRIAL
GAB
All Group Answers
LONG-HAIRED ANIMALS
PRATTLE ON
SNEAKER BRANDS
___ BALLOON
What Is the NYT Connections Game
Connections is a new puzzle game created by The New York Times. Amongst other games like Wordle, Spelling Bee, and The Crossword, it is one of their most popular games available. They first released it in beta on June 12 and officially launched it on August 27, 2023.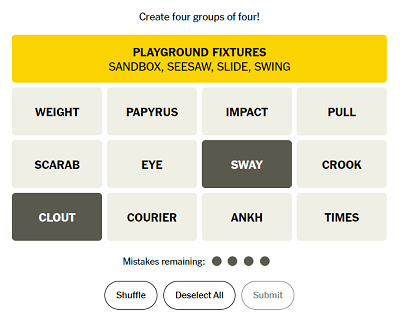 If you're a fan of their other game, Wordle, this might be of interest. Each day brings a new puzzle to be solved with only four misses allowed. The concept of the game is to match four groups of four terms together by their relation.
However, the tricky part arises when some of the terms can relate to multiple groups. To give this game a try, you can play online at the NYT Connections page.
How to Play Connections
The object of the game is to match four groups of four terms that share something in common. That commonality is what makes the group category, so by finding those, you can look for them in the words.
To start, search for words or phrases that have similar meanings, are of the same type, or have some sort of resemblance. There should be one group that's fairly straightforward to give you a good start.
If you can't seem to make a group of four words, try finding another category until you're more confident with your first submission. If you get stuck missing one word, chances are there might be multiple items related to this same category.
If you do find more than four in common, look for another group that might include one of those to eliminate some options. Once you find your first group, it can get easier with fewer options but more difficult with the trickier categories.
Some of the most difficult groups are phrases that start or end with the terms. These would be like the phrases FIRE DRILL and FIRE ANT. Both start with FIRE while DRILL and ANT seem unrelated. So thinking outside the words' meaning can be helpful.
About Our Connections Answer Tool
If you ever happen to get stuck in the game, this tool can help you solve the puzzle in a few simple ways. If you'd like to view the group words including a specific term, just select it and click the See Group Words button. If you'd like to see the group category for a specific term, select it and click the See Group Name button.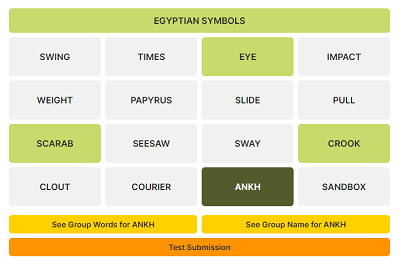 These will all appear on the game board in their respective color, without spoiling any of the other answers. Another way to solve the puzzle without losing your misses is by using our Submission Tester. This allows you to test if four words are of the same group just like the real game. But instead of having to lose a chance, it'll help you learn how many words are missing.
If you simply want to view all the answers for each group, you can click the Reveal All button to see them on the board. Or, you can view the list of all the answers below the board.